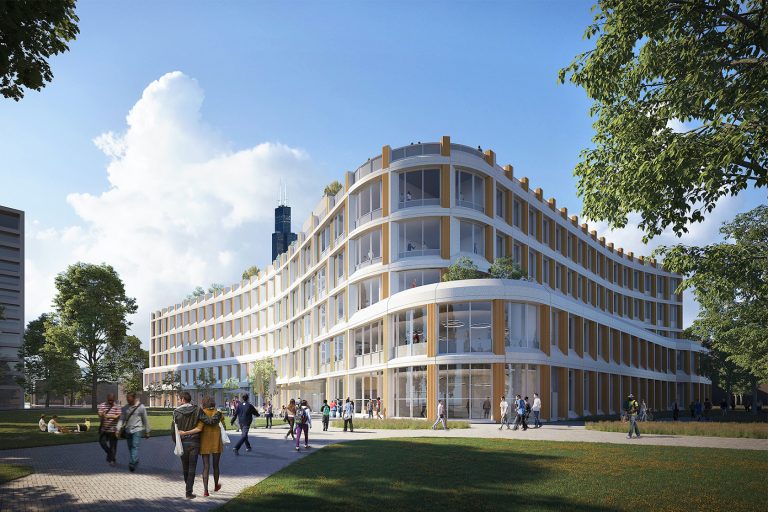 CCS is delighted to see another project we were involved in at UIC breaking ground:  Their new Computer Design Research and Learning Center (CDRLC)!
The new facility is the first of four major projects for UIC to break ground.  With a project budget of $117.8 Million, the CDRLC will be a 135,000 GSF facility constructed at 900 W Taylor Street, adjacent to UIC's Memorial Gove.
This latest building is part of the University's new campus master plan that is supported by the Rebuild Illinois capital plan. The CDRLC will provide collaborative teaching and learning spaces, classrooms, and room for UIC's faculty research department housing 35 labs, and a special 1,200 SF robotics lab.  The CDRLC will also house a community center, an auditorium, a flexible events room, student affairs offices, and a five-floor day-lit atrium.  UIC's internationally renowned Electronics Visualization Lab will also move into the building as well.  With a goal of LEED Gold certification, sustainable features include a  new geothermal farm beneath Memorial Grove that will assist in sustainable heating and cooling of the building.
CCS provided cost management services for this project from the Concept Design through Construction Design phases and helped ensure that the bid came in within 5% of our estimates.  Working with design firm Booth Hansen and the entire project team, we collectively ensured that the project stayed on schedule and budget.
The CDRLC is on an accelerated schedule to meet the exponentially growing demands of the department, with completion projected for the summer of 2023.