Projects
O'Hare International Airport
Sectors
Aviation, Transporation and Infrastructure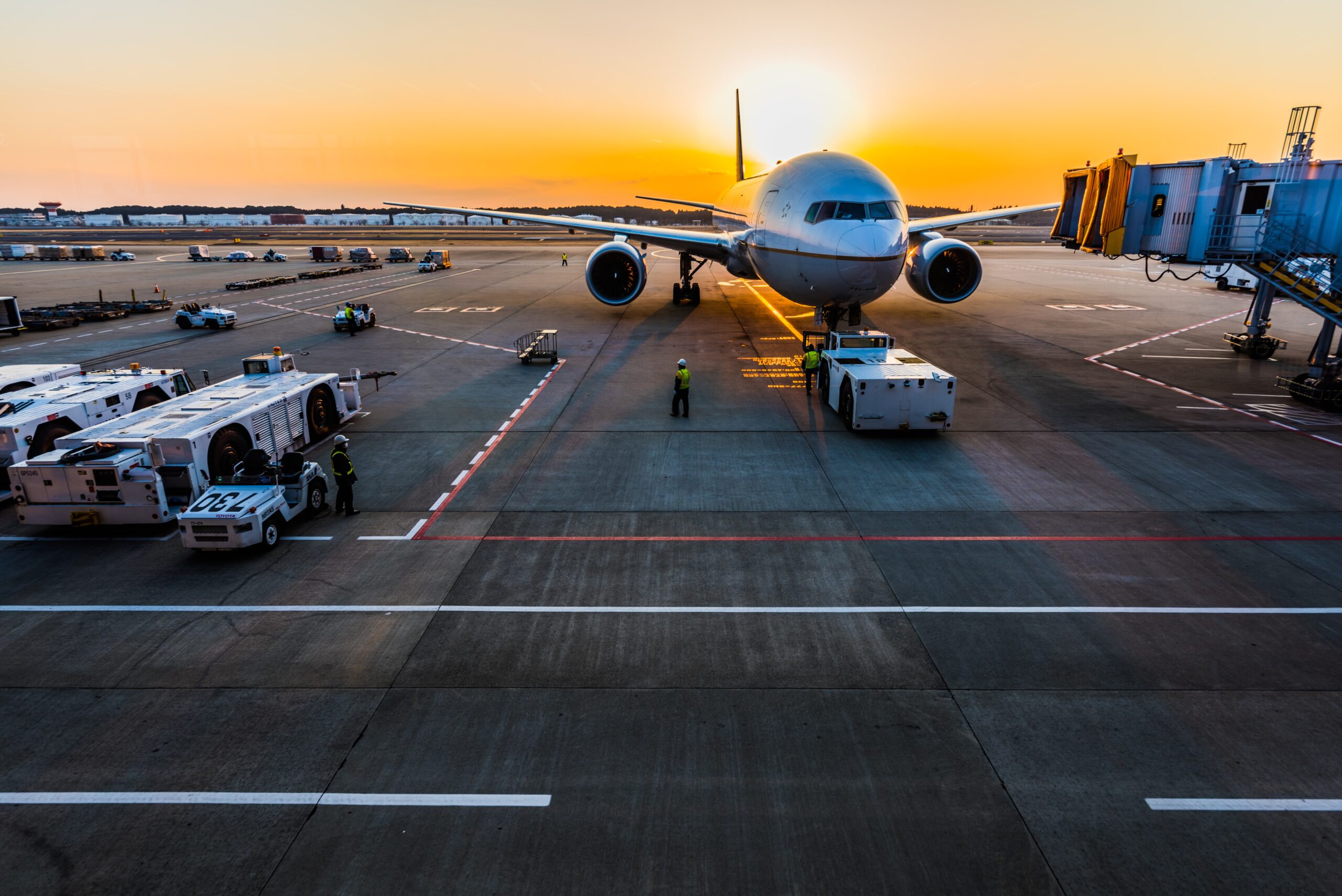 O'Hare International Airport
In 2018, the City of Chicago approved a massive $8.5 billion, 30-year plan to substantially modernize O'Hare International Airport called the O'Hare 21 Plan. It aims to nearly double terminal space, add 22 new gates, and increase O'Hare's passenger capacity by 25% to 100 million passengers by 2026. The City estimated that the contribution to the regional economy over time would be $50 billion and 460,000 new jobs.
CCS' role in the overall Master Plan has encompassed everything from infrastructure to marquee passenger amenities and runways.
Runway Modernization Program
CCS was involved in updating O'Hare's intersecting airfield into a more modern parallel configuration. Our work focused on a new 7,500 foot long, 150 foot wide, Group V-capable Cat II/III runway, which opened in November 2008. The project includes a full-length parallel taxiway and associated high-speed exits, a runway and taxiway underdrain system, pavement markings, and NAVAIDS systems. The project was executed while the airport remained in full operation.
Runway 9R-27L Extension
We provided preliminary phase cost estimates for new construction relating to a 3,600-foot runway extension of the existing 7,967 foot Runway 9R-27L. The overall length of the future runway will be 11,260 feet at a width of 150 feet. The project also includes parallel taxiways, associated high-speed exits, and crossover taxiways between the parallel taxiway and runway as well as connections to the existing airfield. This runway will be capable of accommodating Category II/III operations.
The Admirals Club
CCS led the 78,000 SF remodeling and expansion of the Admirals Club for American Airlines. The project involved the remodeling of the passenger club and an addition to existing executive conference rooms.
Airport Transit System, New Paint System
CCS was involved in the repair of substrate and the recoating of the track support steel, station exterior steel, and bridges support steel of the Airport Transit System (ATS), an automated light rail system passenger transport system providing interconnecting service between Terminals 1, 2, 3, 5 and Remote Parking Lot E.  The work involved the assessment of existing conditions; removal of the existing paint system; recoating steel surfaces with a new durable finishing system; and the development of alternatives for environment and human protection.
Aviation Fuel Master Plan Study
CCS prepared an Aviation Fuel Master Plan Study (AFMPS) at O'Hare International Airport. As part of the scope, we developed feasible alternative improvements to the system to meet future aviation fuel demand and the requirements of the O'Hare Modernization Plan (OMP). The work involved providing conceptual cost estimates for two possible fuel distribution systems.
Concourse E/F Upgrades
This 125,528 SF renovation to public areas included a new 500-seat food court and a retail concessions area of approximately 34,000 SF. The renovations included the replacement of existing fixtures, finishes, and equipment including upgrades of existing MEP systems.
Concourses H and K
This was a 47,905 SF renovation of Concourses H and K for American Airlines. The project included vertical transportation, people movers and the expansion/renovation of areas 1-5.
Corridor Renovation
CCS was involved in the renovation of corridors and concourse areas within the main terminals at O'Hare. The MEP work included improved air distribution ductwork and diffusers, new air handling unit and control systems, and improved lighting and power.
Department of Aviation Offices
This was an 80,000 SF renovation of office space on the second floor of the complex.
East Cooling Tower
The demolition and replacement of the existing East Cooling Tower included its concrete basin and BAC auxiliary towers. The existing tower will be replaced with a single multiple-cell fiberglass cooling tower, and new auxiliary towers will not be installed. The new tower will operate with chillers 7, 8, and 9. Each of these chillers has a design tonnage of approximately 4,500 tons. The minimum cooling capacity will be 14,000 tons and not exceed the existing footprint.
Economy Parking Structure
We led the construction of a new 7-story parking structure involving approximately 3.1 million SF. The structure will incorporate multiple uses such as a rental car center, employee and public support facilities, rental car parking/storage, public parking, and a public circulation concourse connecting with the Metra station. In addition to the parking structure, the project also involves a Quick Turnaround Area (QTA) to provide vehicle service for rental cars, covered walkway connections, a Kiss-and-Fly area, and 50,000 SF of retail space. Dedicated entrance and exit roads/ramps to and from the facility will require close coordination with the Illinois Department of Transportation (IDOT) and the Village of Rosemont.
Engineered Materials Arrestor System (EMAS)
This project involved the development of a new EMAS, a pad at the end of a runway built of lightweight, crushable concrete that safely absorbs the energy of an aircraft that has overrun a runway, bringing it to a stop. The work encompassed a partial demolition of the existing runway and site work.
Federal Express Metroplex Cargo Facility
CCS was involved in the development of a new replacement cargo complex consisting of a 177,500 SF Main Sort building that will house a package sort facility with truck-and-van loading docks; a 20,000 GSF Global Vehicles/GSE services building that will house the vehicle and ground service equipment maintenance functions; and an 11,200 GSF World Service Center supporting employee screening, administrative offices and providing access to the secure areas. The project also includes parking for 300 employees and 160 trucks.
Heating & Refrigeration Plant Development Study
CCS performed a study to determine the life expectancy of the existing Heating & Refrigeration (H&R) Plant and provide alternatives for upgrades or replacement to meet future needs. The study involved the following projects: Stand-by power System Upgrades; HTW System Upgrades; Chilled Water System Upgrades; and TES Storage Tank Installation.
Mail Processing Center
576,034 SF new mail processing center including mechanization, site work, and a 433,904 SF parking structure with 1,000 spaces.
Maintenance Facility
This project included a 54,570 SF 1-story addition and renovations to the existing facility.
Metra Intermodal Station
CCS performed Base scenarios for a Metra Intermodal Station at the airport. The project included a building platform, canopy, pedestrian crossing, passenger drop-off, off-site utility extension, and site landscaping. Scenario 1-A included the intermodal station along with an Amtrak train station, replacement of tracks, and new elevators/escalators. Scenario 2-B included the intermodal station along with an Amtrak train station, moving walkways, replacement of tracks, elevated walkways, utility extensions, and modification of Lot "F" circulation.
Remote Transmitter/Receiver Facility and Special Purpose Area Facility
CCS was a key member of the team that undertook the Construction of new facilities with the following supporting infrastructure:  Remote Transmitter/Receiver (RTR) Facility "U" (1,300 SF); Co-located Special Purpose Area (SPA) Facility (1,600 SF); and a Hazardous Material (HazMat) Storage Building (216 SF).  The work included the installation of ground cover and pavement; electrical, mechanical, and telecommunications systems inside the building; four 60′ high antenna tower structures; and foundations.
South Airfield
CCS was involved in the replacement and construction of the south airfield lighting control system. The work for this project was both underground and vault work.
South Cargo Tunnel
Extension of the South This project addressed the Tunnel structure including MEP facilities.
Standby Power System and Pipe Relocation
This work involved various upgrades to existing power systems and pipe relocation. Three separate cost estimates were developed for different aspects of this project.
Taxiway GG Reconstruction
We worked on the removal of the existing Runway 18/36 from Taxiway H to Taxiway U and construction of the new Taxiway GG from existing Taxiway H to the proposed Taxiway WT, including removal of existing Taxiway V and construction of a new Taxiway V, all located on airside operations at the airport. The work included the removal of pavement, construction of shoulder pavements, associated surface and subsurface drainage facilities, and lighting.
Terminal 5, A380 Gate Enhancements
We managed terminal improvements involving a new A380 gate area specifically designed to accommodate the world's largest passenger aircraft at O'Hare's International Terminal (Terminal 5). The centerpiece of the project is two reconfigured gates including two expansive loading bridges to receive 500-600 passengers streaming out from the two levels of the jet.
Vehicle I.D. System
We oversaw the installation of a new automated vehicle identification system (AVI Ground Management System) for taxis and buses at the airport. Minimal site civil work and new and repaired concrete curbs were also included.